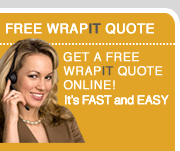 | | |
| --- | --- |
| | WRAPIT EXPRESS is teaming up with STI Transportation |
| | |
| | WRAPIT EXPRESS is offering ECO friendly blanketwrap services |
| | |


WRAPIT Express supplies complete crating and packing services to assure your valuable items are shipped safely and securely. Below is a description of the main types of packing that we may suggest for your shipment:


Custom Crates
Used mainly for fragile, heavy or high value goods. This is the most secure form of packaging.


Trade Show Crates
Used mainly for crates that will be reused many times. We can add wheels, hinges, shelves or cleats. Can be made to break down flat for easy storage.


Large Run Custom Crates
Need Content


Cardboard Wood Crates
Used mainly for semi-fragile items and high value goods. This is a less expensive alternative to the full wooden crate.


Palletizing
Mainly used for pre-boxed, non-fragile items, this is the minimum amount of packaging for any shipment.


Pallet Box
Used mainly for large non-fragile to semi-fragile items. We manufacture a custom wood pallet base, foam interior, double wall cardboard exterior

Packing Guidelines for Customer Packed Goods


Your freight should be on a pallet, skid, or other forkliftable base.
70-gauge stretch-wrapping should be used with a minimum of two bands that are secured through the pallet voids and around cartons.
The shipper is responsible for ensuring that the cargo is packed appropriately for carriage so as to ensure that it can be carried safely with ordinary care in handling and so as not to injure or damage any persons, goods or property.
Each package must be legibly marked with the name and full address, including ZIP/postal code, of the shipper and consignee.
Briefcases, luggage, garment bags, aluminum cases, plastic cases, computer cartons or similar types of items whose outer finish might be damaged by adhesive labels, soiling, marking or other types of surface damage that is normal with ordinary care in handling should be placed in a protective container for shipment.
Packing Tips
Used new boxes with foam pellets, bubble wrap, rolled-foam or other interior padding.
Distribute weight evenly on the pallet.
Stack boxes squarely on pallet, corner-to-corner, to maximize compression strength.
Make sure the top of the pallet is flat to minimize chances of lost or damaged cartons.
Stack cartons to the edge of the pallet, but don't overhang.
Place angled cardboard between cartons to prevent crushing.