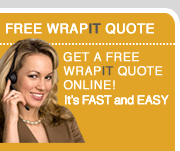 | | |
| --- | --- |
| | WRAPIT EXPRESS is teaming up with STI Transportation |
| | |
| | WRAPIT EXPRESS is offering ECO friendly blanketwrap services |
| | |


WRAPIT Express was established in 1995. Bringing together the Domestic and International Freight Industry and the Custom Packaging industry, WRAPIT Express established a unique business of specialized transport. WRAPIT Express offers custom packaging and shipping methods for businesses and consumers with shipments too big, fragile, valuable or awkward for traditional freight carriers or small package handlers.

WRAPIT Express is a full service logistics provider focused on customized packing and shipping solutions. We have the ability to combine full service Domestic and International freight transportation with custom packing, simplifying the shipping process. We are an IATA Air Freight Forwarder, Ocean Freight Forwarder and DOT Licensed Freight Carrier. We supply full insurance on artwork, high value goods and personal effects.

Clients rely on WRAPIT Express to supply:
Single source shipping services
Customized wood and corrugated shipping containers
Worldwide transportation via Air, Ocean or Ground transportation
Full Insurance coverage on all commodities
Customized solutions for specific shipping needs
Fast Free Quotes
Whether you purchase art or antiques while on vacation, are relocating your home or business. WRAPIT Express provide complete transportation solutions.

WRAPIT Express offers domestic and international freight shipping, with options for express or economy delivery. Our Domestic methods include air or ground transport. International shipping moves via air or ocean transport.